What an action packed day at the ERRA CAR Championships at Sutton Park on Sunday 6th October. Congratulations to all winners and well done to those who took part. Ken Smith has highlighted the performances of the top finishing Northern Clubs, thanks Ken.
U13 Boys:
Paula must have enjoyed her Premier Inn breakfast that morning! The day got even better for her, when the Trawden U13 boys team finished in an outstanding 4th position. Coming after their 2nd place in the NA Championships, this shows the great potential in the team. The selection on the day was spot on, finishing 19th on 1st leg, 7th on 2nd leg and 4th on the final leg.
U15 Girls and Boys:
Vale Royal won both the boys and girls races at Sportcity in the NA Championships, and repeated the result at Sutton Park on Sunday. North Shields Poly were also prominent, finishing 2nd in the NA Championships and 3rd at Sutton Park. They also produced the fastest U15 boys time of the day, with Joshua Blevins finishing in 12.29 on the first leg.
U17 Women:
Salford Harriers was another club that did the double, winning both the NA and National Championships. All 3 athletes were within the top 10 times of the day at Sutton Park.
Senior Women:
No podium positions this year for Northern clubs, with the Jenny Blizard inspired Rotherham Harriers finishing in 6th place, just 7 seconds ahead of Lincoln Wellington. Leeds City were 10th.
Senior Men:
This report is all about Leeds City. Their team management on the day was inspired, with 3 athletes in the top 10 fastest legs, showing their winning mentality. The team improved on almost every stage, starting off at the end of leg 1 in 29th place, just behind their B team. Graham Rush yet again anchored the team to victory on the final leg, just as he did at Sportcity. Morpeth finished 8th, one place ahead of Sale.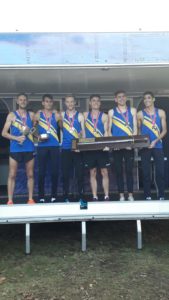 Leeds not only received the winning trophy, the Southport Corporation Cup, but also as first Northern club they received the huge and impressive Wilkinson's Sword. However, the winning of this sword brings its own transportation challenges. Imagine a car full of tired and happy athletes with the sword across the laps of the 3 rear passengers!
Ken Smith